– a labour of love
10 years in the making – the most comprehensive documentary about World Championship Wrestling in Australia is finally here. Compiled by wrestling historian Libnan Ayoub, (son of Sheik Wadi Ayoub)­, it charts the events and extraordinary characters of World Championship Wrestling that mesmerised the nation between 1964 – 1978.  It was a world where good triumphed over evil, heroes and villains fought – and a sport not for the faint-hearted. World Championship Wrestling became an iconic part of Australian sporting history, the likes you will never ever see again.

            – the wrestlers, referees, commentators and fans
The wrestlers were the ultimate characters of World Championship Wrestling – larger than life and each with their own unique style. Many were from different cultural backgrounds, and all appealed to the fans. Legendary wrestlers like Spiros Arion, King Curtis, Mario Milano, Abdullah the Butcher; commentators Mike Cleary and referee Tony Marino; and prominent Australians who were touched by the magic – like Ray Hadley, Santo Cilauro and the late, great sports doyen, Mike Gibson – all talk in their own words about the hey day of World Championship Wrestling – the events, characters and experiences that indelibly marked the time.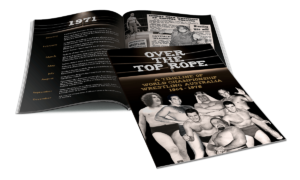 Take yourself back to the time and action of World Championship Wrestling 1964 – 1978. Directed and written by Libnan Ayoub and Damian Kringas, OVER THE TOP ROPE charts the amazing events that saw 'World Championship Wrestling' establish itself as a weekend ritual in loungerooms across the country – and became a media juggernaut that mesmerised the nation during the 1960s and 70s.
A two-hour DVD with extremely rare footage and photos, interspersed with interviews with the wrestlers, fans, commentators and referees. As a companion to the film, a bonus 32-page timeline booklet presents a chronological record of World Championship Wrestling highlights year-by-year, with never-seen-before photos and memorabilia.